Glenn Campbell's Travel Map
Glenn Campbell has visited 57 countries. Country List and Detailed Map.


Glenn's Travel Map on Google Maps * — This map, started in 2014, shows places I have distinct memories of. (If you mention one of the places I have pinned, I should be able to tell you something unique about it to prove I was there.) Always under construction.
My photos of most of these places: Photo Album Index
See Complete List of Countries I have visited
Within the 48 contiguous USA states, I have been so many places that it is useless to list them. Instead, here is a Map of the North America places I have NOT visited * . (This list includes only unique places where you might possibly want to go, not every small town I have missed.)
In each of these places, I have rented or borrowed a bicycle and wandered around (perhaps the best way to see a city): Madrid, Sarajevo, Warsaw, Berlin, Amsterdam, Ljubljana, Stockholm, Budapest, Riga, Vilnius, Skopje, Tokyo, Bratislava, Prague, Copenhagen, Kiev, Tel Aviv, Nantucket, Mackinaw Island, Key West, Lake Kawaguchi


Countries I have visited (a bit deceptive, since I may have visited only a single city in that country).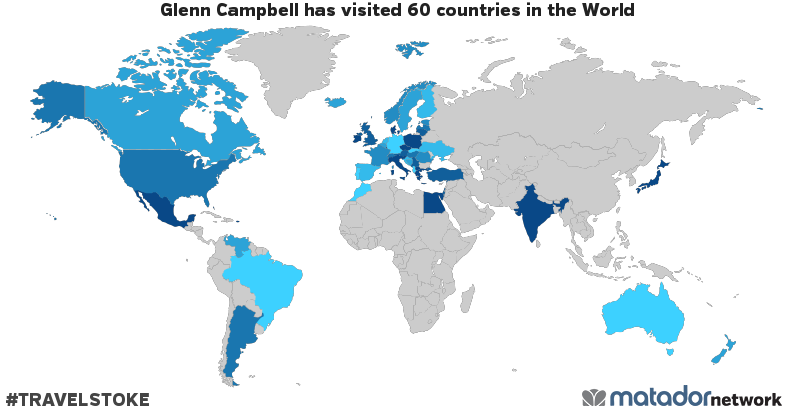 Glenn Campbell has been to: Albania, Andorra, Argentina, Australia, Austria, Bahamas, Belgium, Bosnia and Herzegovina, Brazil, Canada, Croatia, Czech Republic, Denmark, Egypt, Estonia, Finland, France, Germany, Gibraltar, Greece, Hungary, Iceland, India, Ireland, Israel, Italy, Japan, Kosovo, Latvia, Liechtenstein, Lithuania, Luxembourg, Macedonia, Mexico, Monaco, Montenegro, Morocco, Netherlands, New Zealand, Norway, Palestinian Territory, Poland, Portugal, Puerto Rico, Romania, Serbia, Serbia and Montenegro, Singapore, Slovakia, Slovenia, Spain, Sweden, Switzerland, Turkey, U.S. Virgin Islands, Ukraine, United Kingdom, United States, Vatican, Venezuela. Get your own travel map from Matador Network.
---